Follow this checklist to get the most out of your Story Feed, and better connect with candidates through story telling.
Video Recommendations
The
more videos
the better! We recommend 30+ videos for the best candidate experience. This allows individual visitors to tailor their experience with video content that interests them.
Ensure your video content has variety - collate videos from different departments to showcase diversity across your people, culture, gender, and roles.
Profile Pictures
Having profile pictures on your Employee Stories in Story Feed adds a level of authentication and let's the candidate know the content comes from an actual employee.
Add a profile picture on every video for a polished and personalised look and feel.Do this by clicking on the three dots on the top right corner of your story and select "Edit Author"
Select "Override Author Details" to change the author details. Then choose a profile pic and enter their name and role before selecting "confirm".
If you don't have a profile picture of the employee, then select to "Hide Author Details"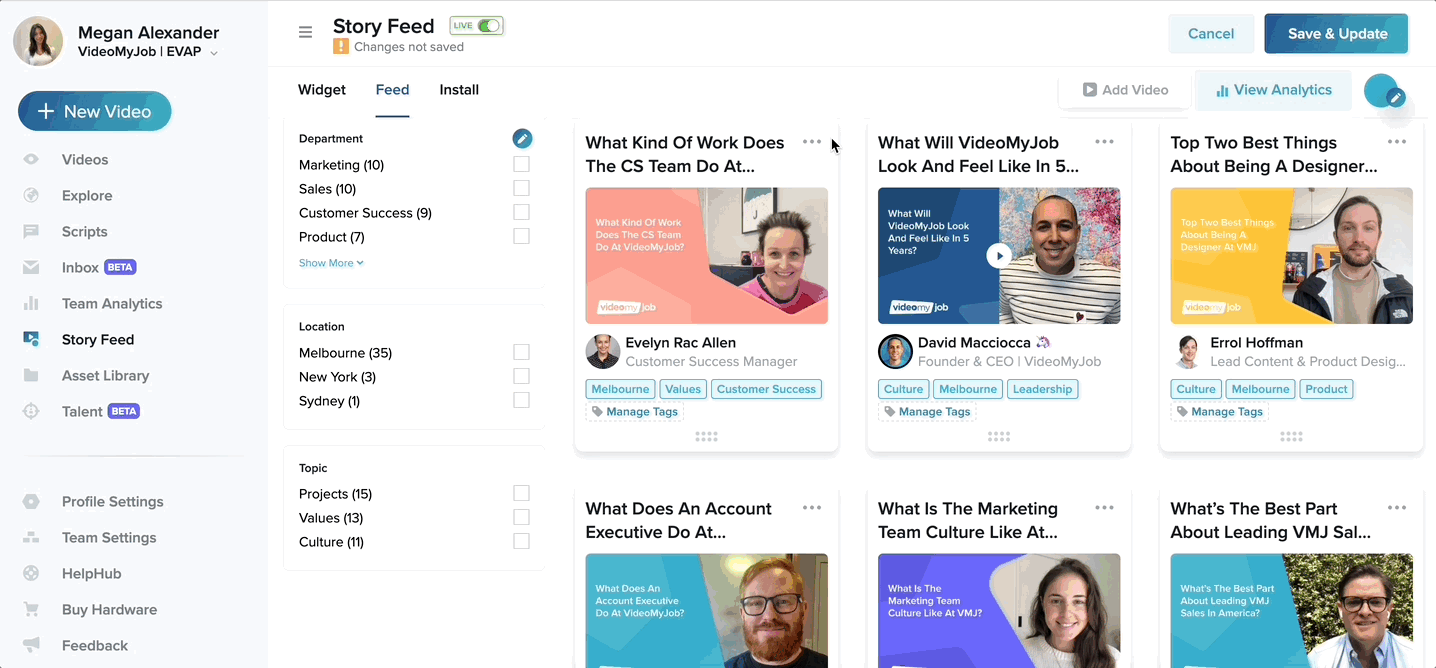 Tags
Tags are used to categorise and filter your videos making it easy for candidates to engage with content that is most relevant to them. There are three defaulted tag types - Topic, Department, Location - and these can be edited. We recommend;
Minimum of 3 videos per tag
Maximum of 3 tag types (eg: topic, location, department)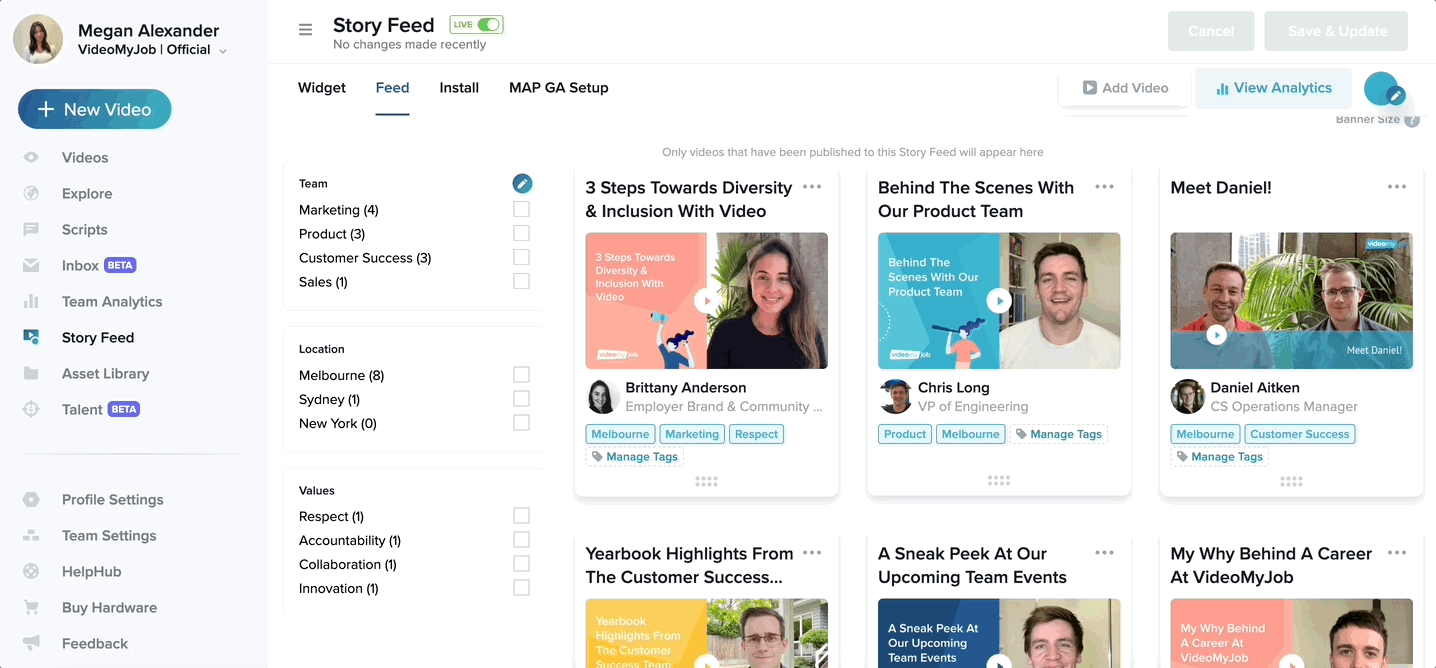 Cover Image
Make a great first impression with the right cover images for your video;
Ensure the person in the image is centred and not hidden. Learn more about how to create cover images by clicking here
Choose a image / frame of the person smiling
Rearrange your videos to make sure that the same person isn't showing up close to each other by dragging the story and repositioning as shown below.
Tip: You are able to have multiple custom cover images. Speak with your Customer Success Representative for more information.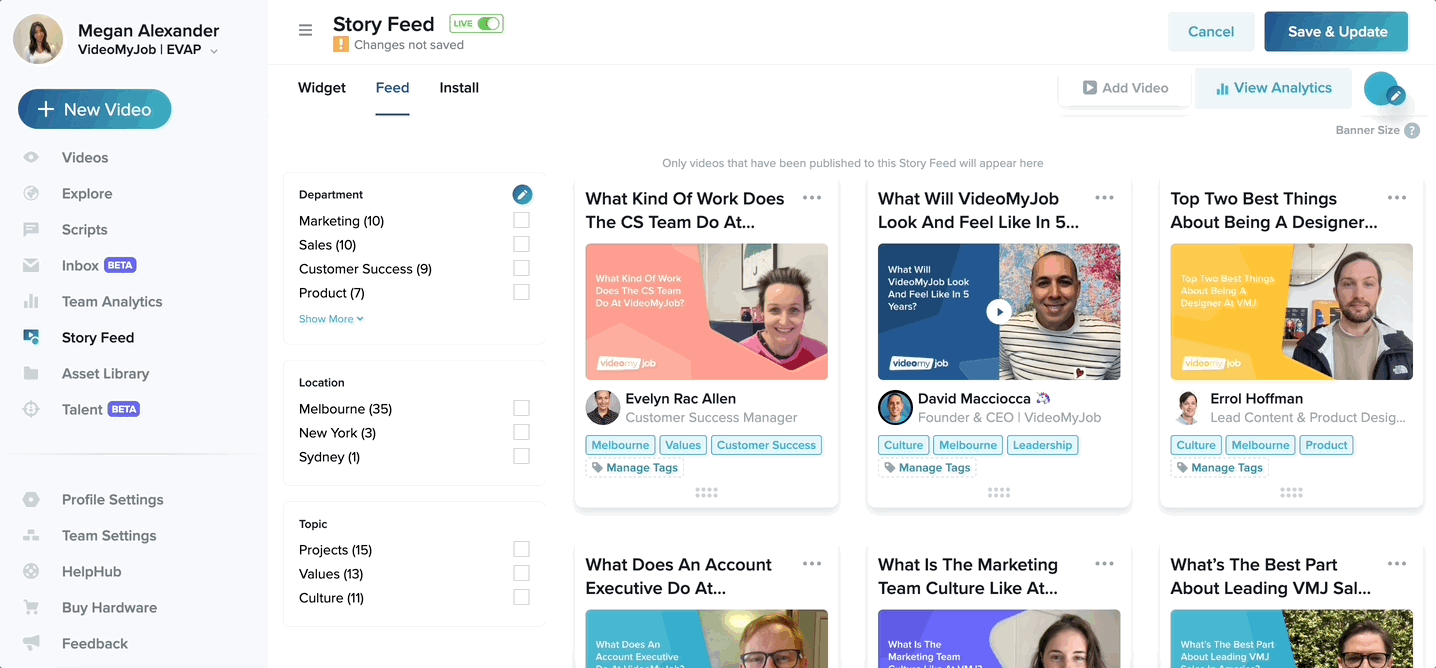 Banner Image
Having a banner image is a great way to brand your Story Feed and maintain brand consistency across your website.
Add Banner Image - Specs: 1281px by 200px tall
Ensure the image quality is good and that it matches your branding
Fade Effect: this will happen with you add optional text in the header of the banner. If you don't want this to happen, then don't add text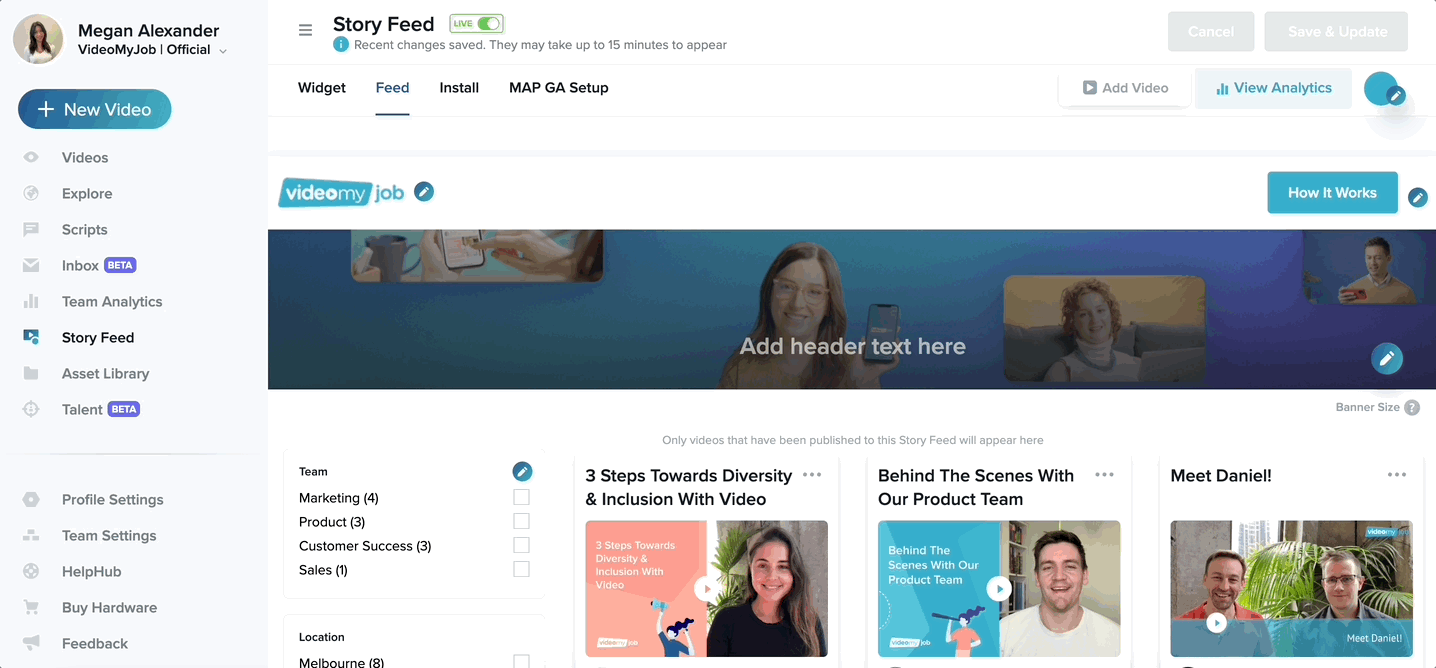 Call-to-Action (CTA)
Adding a CTA is the perfect way to lead the visitor / candidate to the next stage in your funnel. Popular CTA's would be;
Job listings / Job Search / Open Roles Page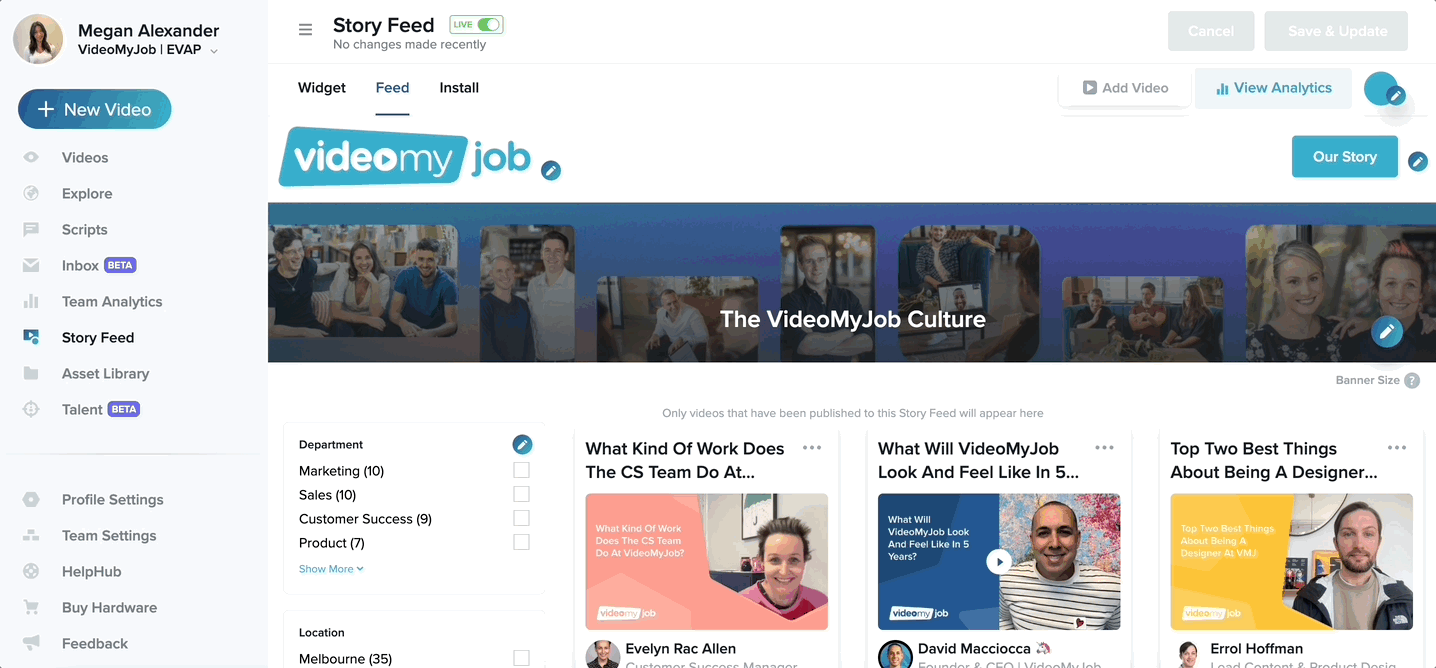 Logo
For brand continuity, add your company logo to the video feed;
Dimensions: 135px by 24px
Brand Colour
Make sure you set your brand colour or it will default to VideoMyJob blue
The colour will be added to CTA buttons, tags, and some text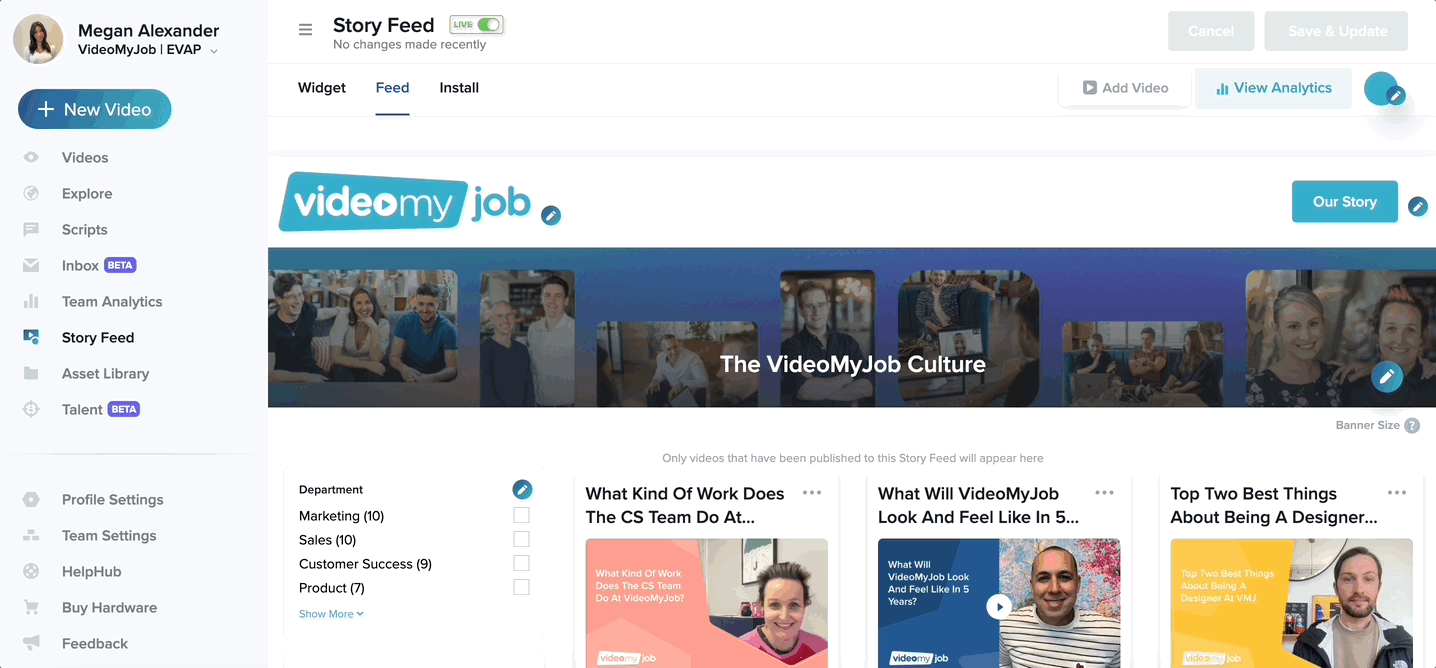 Feature Videos (Widget)
Featured videos are the 3 videos that appear in the small widget in the bottom right corner of your website when the widget is set to Live. By default this will display the 3 most recent videos, however this can be customised;
Make sure the videos showcase different people and cover different topics
Add your best in class videos
Regularly review, curate and update your video in this section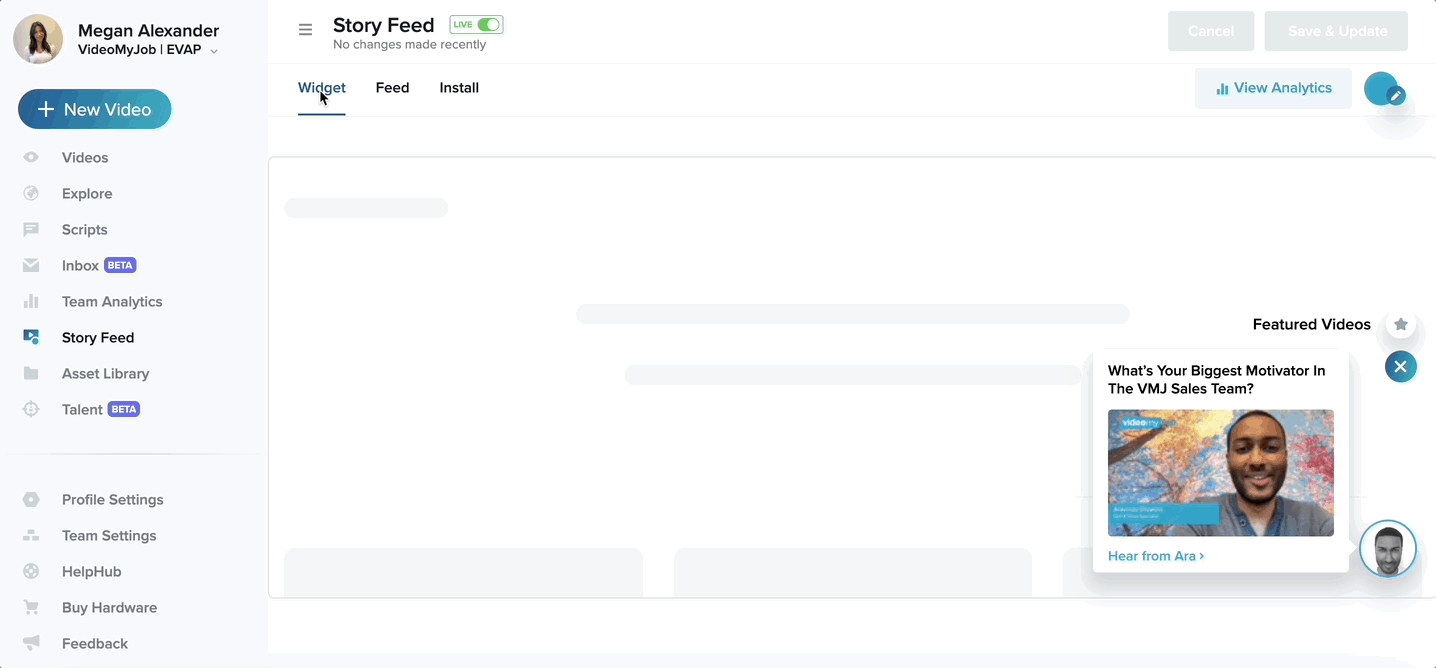 Location of Story Feed
The location of your Story Feed is important!
For higher open rates, ensure it's added to pages where it's most relevant. Eg: About Us Page / Life@ / Careers Page
Make sure you don't have two CTA's or widgets competing in the same space - eg: it should not be added to a page where there is a chatbot
Feedback Survey
Having the feedback survey turned on is a great indicator of what the candidate experience looks like. Ensure this is not turned off