Learn how to create, share and track video plays and CTA clicks on a video landing page
A video landing page is a unique URL, such as https://videomy.co/gmaaAb8, which allows VideoMyJob creators to share and track videos.
The root domain https://videomy.co is followed by an automatically generated sequence of letters and numbers, unique to each video landing page.

Once a video is published, a 'Unique Share URL' is automatically generated.
Copy the unique share URL from the web dashboard:
Go to VideoMyJob web dashboard
Click on the video you would like to share a landing page for
Click on the blue arrow in the top right hand corner
'Share' options will appear
Click 'Copy' to share your unique landing page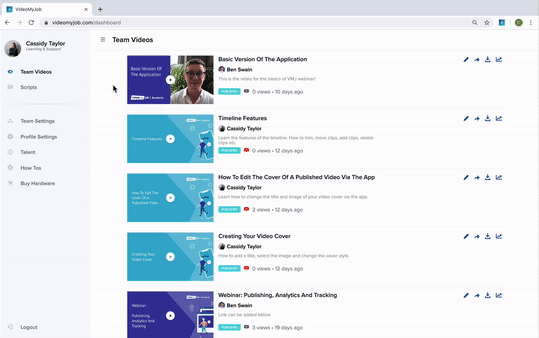 Below is a screenshot of a video landing page. Video landing pages include:
Video title
Description
Call to action (CTA) button
Learn how to edit the video title, description and CTA link.