Learn how to create and edit text captions during editing: intro & outro overlay, dynamic & full-screen captions and caption snapping
What are the elements of your video message that you want your viewer to recall or act on? Adding text captions will help to reinforce key points and calls to action in your video.
How to edit intro and outro caption
Your job title and contact information will be pre-populated in the intro and outro caption overlays. Edit your personal profile to update this information.
Make sure you check your company brand guidelines before making changes to any overlay designs.
Tap on the caption strap in the 'Overlays' screen to edit the text
Swipe left to delete the caption on the list view
Use the settings shown below to edit the font size, text alignment and timing of your overlay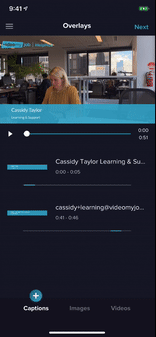 How to add a text caption overlay
Tap the 'Captions' icon
Tap the caption style and begin typing
Use 'Overlay Start' and 'Overlay End' to adjust the amount of time your caption displays
Use the - and + icons to change the font size
Use your fingers to position the caption on screen
Tap 'Save'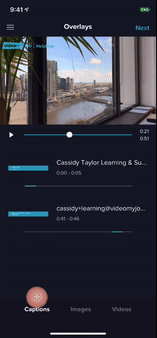 How to delete a caption
Swipe left on the row of the chosen caption and select 'Delete'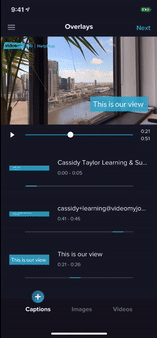 Trimming captions
Use your fingers to drag the red dots to your desired position
Or use the 'Overlay Start' and 'Overlay End' - and +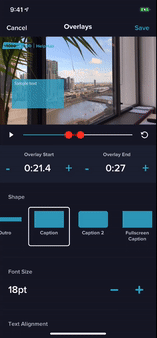 Captions styling
Standard branding offers several caption styles for text overlays:
Dynamic
Intro/Outro
Guest Name & Title
Caption
Fullscreen
If your account has Custom Branding you may have more caption styles to select from.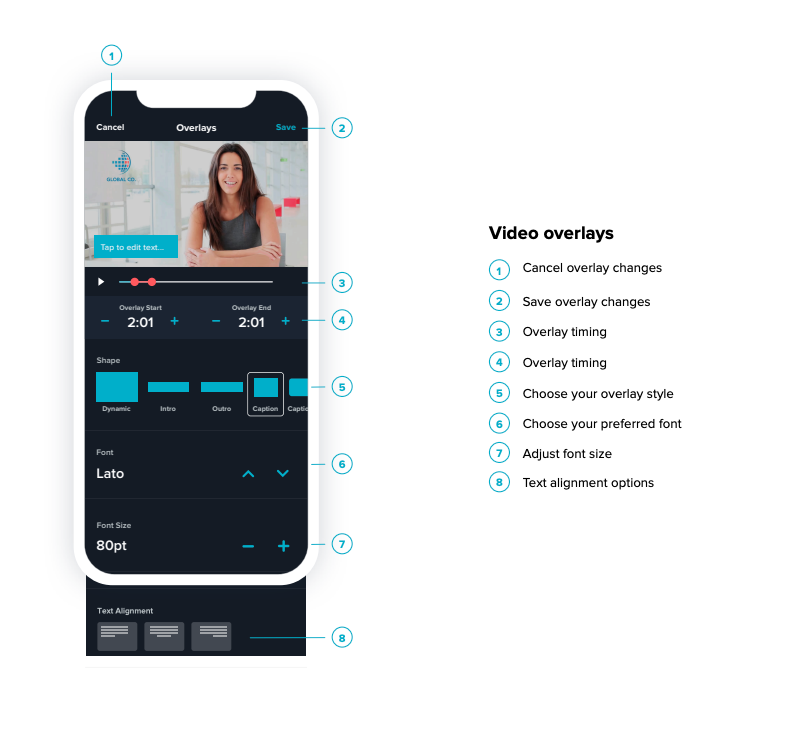 Join one of our weekly user training webinars to learn more