Learn how to keep videos hidden, or make them visible to other users in your VideoMyJob team.
How to make a video hidden from other users


When a video is ready to upload from the VideoMyJob app, you have the option to set the video to "hidden" from other users in VideoMyJob.
Step 1: Film and edit your video
Step 2: Click to upload video
Step 3: Confirm Upload - this screen provides the option to set video visibility.
By default, the visibility will not be set to "Hide video from team" (Option 1)
To change visibility tick the "Hide video from team" option before upload (Option 2)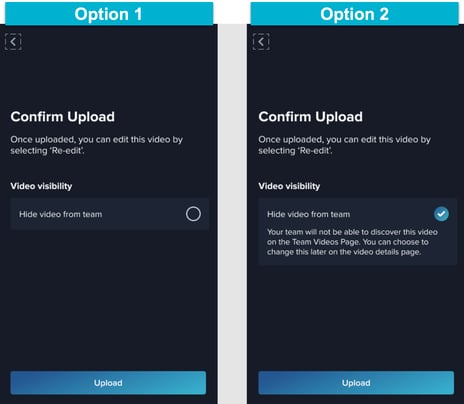 If you select hide the video from team, it will appear within the "Videos" feed as shown below - with the video cover image and title hidden to other users in the team.
Web Dashboard View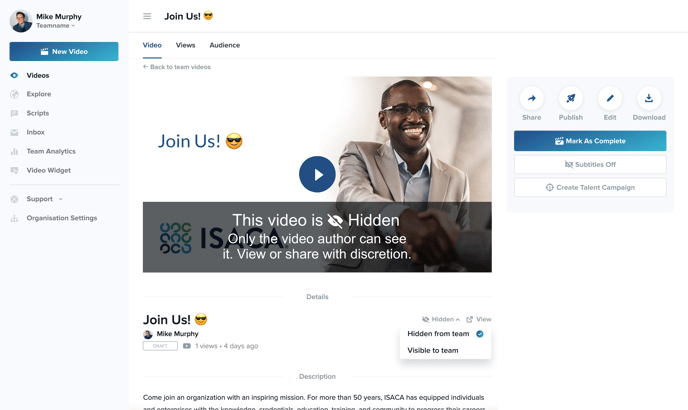 In-App View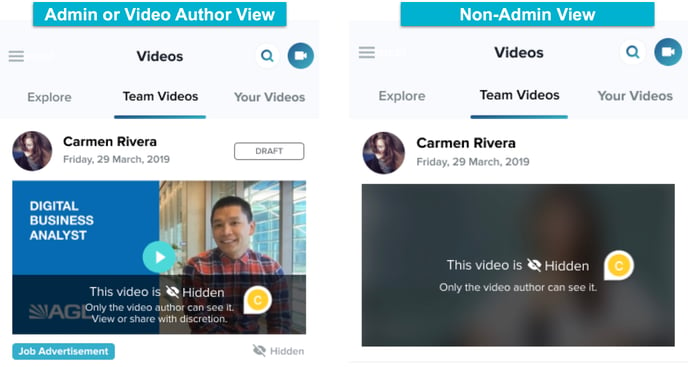 How to update video visibility

Step 1: Select the video from "Your Videos"
Step 2: Select on the visibility drop down and change to desired state - "Hidden" or "Visible To Team"
Web Dashboard View



In-App View

Also note that when a hidden video is published to at least one connected social platform using the steps below, it will automatically make the video visible to the team.

Web Dashboard View

In-App View