Having issues responding to a VideoMyTalent video request? Didn't receive the one-time code?
VideoMyTalent is a platform provided by VideoMyJob to support companies in receiving video assessments, as such if you contact the VideoMyJob support channel we will not know who you are or what company you are trying to apply to and so we will find it difficult to properly assist you. We recommend that you reach out to the contact of the company that you are trying to submit a video response with and they can assist with escalating technical issues on your behalf.

We have some common troubleshooting steps below though that could solve your problem. Please read through them and, if you are still having issues, then please reach out to your contact at the company that you are trying to submit a video response to.

Let them know what happened and provide any screenshots that may assist them in reviewing and escalating any issues.
Be sure to provide details on the steps you took leading up to wherever you got stuck so that they can try to reproduce and resolve any issues in the process.
They may be able to help by providing further instructions on how to complete the application. If there is indeed a technical issue that they are unable to help you solve then the company will reach out and escalate to us.


Common Troubleshooting Steps
Did you wait long enough?
I know you're super keen to get in front of the camera and tell your story, and we are too! The SMS with the one-time-code can sometimes take a few minutes to come through though :(
Check your email
We also send the link to download the VideoMyTalent app and your one-time code to your email. If you entered your email correctly then you should receive it there even if the SMS has not come through yet.
(Don't forget to check your spam folder, just in case...)
Did you enter the correct mobile number and country?
If you've waited 15min and still haven't gotten the one-time code SMS then you can try re-submitting the form and carefully check you entered the correct mobile number and selected the correct country from the drop down.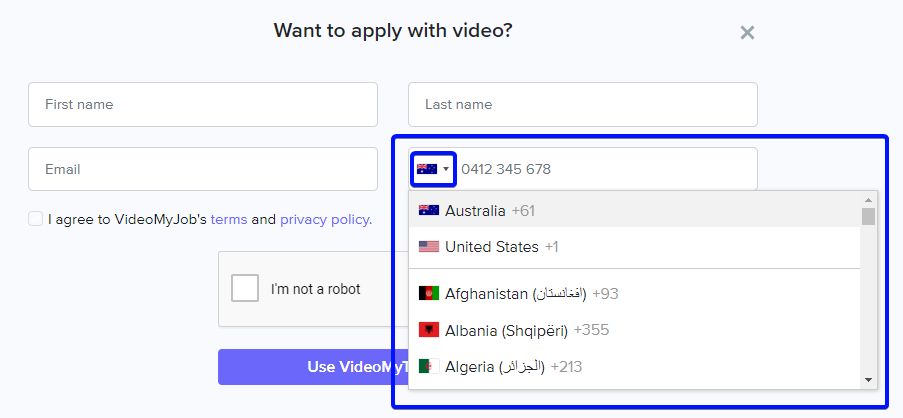 Are you running any adblockers or other browser extensions?
Some adblockers and browser extensions that alter the web page can sometimes prevent forms from appearing or submitting correctly. If you encounter any error messages when submitting a form please double check any browser extensions and try again. You can also try using Incognito/Private mode which will often not have the same extensions running.