A step by step guide to publish an unlisted video with VideoMyJob
Sometimes our videos aren't meant to be searchable by anyone on the internet.
Learn how to publish an unlisted video to share with specific audiences or on selected social media platforms.
Open your VideoMyJob app
Expand the menu from the left hand side and select 'Your Videos'
Select the thumbnail of the draft video you wish to publish as 'Unlisted'
Select the Publish button that appears at the bottom of the screen
The preselected big tick next to your Youtube Channel means your video is already set to Listed
Tap the option 'Keep Unlisted'
Then press Publish one last time
Your video is published and is now ready to share with your intended audience or on your selected platform.
Keeping a video unlisted means it will be kept private on YouTube. Audiences can not search for this video; they can only see it when you share it via text, email or social media platforms.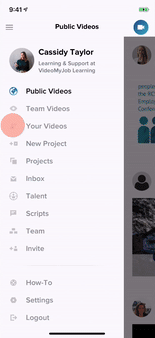 🕵️‍♀️ HEADS UP 🕵️‍♂️
We have made updates and improvements to our Publishing workflow. Parts of this article need to be updated with the new 'Complete' stage.

We are working through updating all of our relevant articles, but, for now, here are the articles to learn more about the 'Complete' stage:
Video Publishing Guide (Web Dashboard)
Video Publishing Guide (App)

If you have any questions please reach out to support and we'll be happy to help.

Happy videoing! 😀
-The VMJ Team
Join one of our weekly user training webinars to learn more